The following selection of work across interactive art, artists' books, performance, and publication reflect a suite of concerns around the book as a conceptual space and participatory art form.
Additional projects and publications can be found via the links in the site menu above, should they be of interest.
All links below will open in a new tab.
Wave Signs & Moon Signs (2016)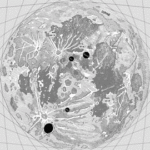 These two interdisciplinary collaborations with Carrie Bodle encompass a sound installation, artists' ephemera, and a participatory performance. The recipient of the jury prize in the exhibition Giant Steps, Wave Signs envisions the creation of relay stations to produce sound art by sending signals between Earth and the Moon.
Moon Signs, commissioned by the Henry Art Gallery and Simpson Center for the Humanities, extends the concerns of the project. Presented at the Henry Art Gallery and the Seattle Art Museum's Olympic Sculpture Park, Moon Signs consists of a participatory performance facilitated by an interactive volvelle (available as a limited-edition artifact and a free web-based app) with which visitors create and perform poems from lunar language.
Pomegranate Eater (2016)
My poetry collections explore materiality through sound, constraint, writing through, and other techniques that treat language as material. Pomegranate Eater (Kore Press, 2016), my second collection of poems, toes the borderline where fecundity meets decay in poems investigating the ways we construct ourselves with and against the visions imposed on us by others.  I turn to etymology, word play, failures and surfeits of meaning in order to think through the way a self is built with and against language. Wrestling with vulnerability and protection, these poems take to heart both Persephone's myth and Rilke's injunction to the tangerine—that it might learn a thing or two from the pomegranate's "armor of Cordova leather." I construct these poems as temporary shelters for a feast of ingathering in which the reader is simultaneously invited to the table and held at arm's length.
Abra: A Living Text (2015/2016)
The recipient of an NEA-funded Expanded Artists' Books Grant from the Center for Book and Paper Arts at Columbia College Chicago, Abra (1913 Press, 2016) is a living text that grows and mutates in the reader's hands. As a limited-edition artists' book, its physical form references the history of the book through subtle design cues that treat the page as a touchable interface. A free app for iPad and iPhone allows readers to mutate the text and make it their own, breaking down the notion of the book as a fixed artifact bestowed by an author upon a reader. A trade edition animates the page with illustrations that press at the boundary between text and image.
A Book of Dust (2015)
This text generator in homage to Alison Knowles and James Tenney's A House of Dust (1967), creates descriptions of imaginary books based on the grammatical structure of Knowles' poem:
a house of (material)
(location)
using (light source)
inhabited by (inhabitants)
I'm drawn to Knowles' work for its redefinition of book form. In the 70s and 80s, she constructed artworks as large-scale books to be walked through by the viewer. She also performed seminal small press publishing experiments and created editioned works for George Maciunas's Fluxkits. A House of Dust was a computer poem, a limited-edition artist's book composed of selections from the print feed, and a physical structure, which was destroyed shortly after its installation in Chelsea. As such, it raises questions of bookishness, public interaction, and ephemerality that continue to be central to my own work.
Whispering Galleries (2014)
Whispering Galleries is an interactive digital artwork that uses the Leap Motion gestural controller to allow visitors to interact with a historical diary. Commissioned by Site Projects through a grant from CT Humanities, the work was installed in each of the branches of the New Haven Free Public Library as part of the CT at Work initiative, a year-long series of art and events on the past, present, and future of labor in Connecticut.
The project has since been included in exhibitions at the International Symposium of Electronic Art in Vancouver and at Winona State University.
As We Know (2014)
This collaboration with writer Andy Fitch, published by Subito Press, seeks to invert the gendered history of editorial intervention in which male writers appropriate and redact the work of female writers. We chose the technique of erasure because it is a popular mode of contemporary writing in which such one-way intervention is sanctioned (an author selects a source text, obscuring portions of it to reveal new poems). Rather than using a canonical text, we worked from Andy's diary to see whether a mutually-constructed speaking subject could emerge through this collaborative process. The resulting text raises questions about the "truth" of nonfiction subjectivity and uses the materiality of the book to gesture toward the many ways even the most banal daily experience, recorded in diary form, is constructed.
The book has received favorable reviews in Publishers Weekly and the culture and literature websites Seattle City Arts and Fanzine, among others. Our series of video art pieces that extend the project have been featured in Huffington Post and PoetrySeen, and have been screened at a number of international video art festivals including Dorset, Novi Sad, and Athens. Through these performances and our staged author portraits, we extend and complicate the gender dynamics at play in the text.
The Deletionist (2013)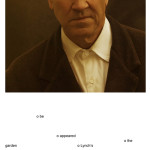 Erasure, the process by which an artist obscures text from a source to draw attention to a selection of words and phrases within it, is often discussed as hypertextual because it creates new networks of meaning within a matrix of language. The Deletionist, an artware bookmarklet created with Nick Montfort and Jesper Juul, sets out to create erasures from the vastest hypertext available, the Web. When readers activate the JavaScript bookmarklet on a given site, the Deletionist, a deterministic system, runs through a series of poetic rules and selects a single one to apply – the one it deems most suitable, which reveals an alternative network of text, The Worl, within The World Wide Web.
While erasure was once rare, the technique has become increasingly popular. Because of its capacity to create intertextual dialogue and to raise questions about speech and silence, I have found it especially useful in Whispering Galleries, As We Know, and Handiwork. The Deletionist, rather than creating beautiful poems via artificial intelligence, is interested in exploiting this intertextuality to reveal textual features of the web itself, to understanding the features that make erasure legible as poetry, and to engage in a dialogue with a number of historic precursor works of conceptual art and writing.
Sunt Lacrimae Rerum (2013)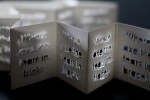 An artist's book created in homage to and in mourning for the bombing of Al-Mutanabbi Street, Bagdad's street of booksellers, Sunt Lacrimae Rerum takes its title from Aeneas's words of sorrow uttered before a Carthaginian mural depicting the Trojan War. The text of the accordion book is cut away, reaching off the page so that letters entangle and tear one another apart each time the book is opened.
The book has been exhibited widely as part of As Inventory of Al-Mutanabbi Street, a traveling exhibition, and is held in the libraries of George Mason University, the Virginia Institute of Technology, Baylor University, The Cleveland Institute of Art, UC San Diego, and the New York Public Library.
Between Page and Screen (2012/2016)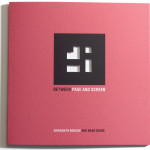 Originally created as a limited-edition hand-made artist's book, Between Page and Screen was published in 2012 and was reissued this year. A conceptual artist's book, it meditates on the relationship between print and digital reading through a series of letters between P and S, two lovers mapping the bounds of their relationship. Because the project's intention is to put words in the reader's hands and to interrogate the assumptions underlying our definitions of the book, the project's code is open source, and a suite of DIY tools allows readers to print and bind their own copies by hand, as well as to use a web-based interface to generate their own AR poems.
The book received the 2011 College Book Arts Association Prize. It has been widely taught and exhibited, most recently at the University of Bremen, UC Berkeley Brown Gallery, Lesley University College of Art and Design, and . A complete exhibition history can be found on my CV.
Handiwork (2012)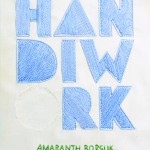 Handiwork (Slope, 2012) explores textual materiality from a different direction: by considering the ethics of writing through personal history. In typographic terminology, letters are bodies with shoulders, tails, and spines. These poems consider the relationship between the poet's manipulation of these forms and my own desire to write into the gaps in my family's history created by the Holocaust. In a series of fragmented lyrics, writings-though, and numerologically-constrained poems based in Hebrew Gematria, I probe the relationship between writing and torture—the ways poetry can wound us and the ways it wrestles with language itself.