Subito Press (November 2014)
Project website: as-we-know.com
A collaboration with Andy Fitch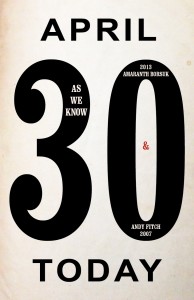 Available through Small Press Distribution or Amazon.
Selected by Julie Carr for the Subito Prize, As We Know attempts to invert the gendered history of editorial intervention as it has played out in the famous cases of figures such as Dorothy Wordsworth and Emily Dickinson. At the same time, it repositions erasure procedures at the origins of (rather than in response to) a published text. Here Amaranth Borsuk has taken Andy Fitch's summer diary and reshaped 60 passages (formatted as daily calendar notations in homage to Robert Creeley's A Day Book, with its cover design by Robert Indiana) into a new type of collective confessional/constructivist collage that brings her own voice into the text and foregrounds the tensions of authorship. Embracing Roland Barthes' call for a "corrected banality," this project presents the most unmediated-seeming idiom—the diurnal, journalistic record—as itself the consequence of methodical and/or whimsical extraction. Nonfiction subjectivity emerges as the product of, not just the source for, erasure poetics. As in Barthes' own elided memoirs, the resulting work calls into question exactly who we are and what we know.
Selections from the book have appeared in Best American Experimental Writing (Omnidawn, 2014), Evening Will Come, Matter, Dusie, and Ocean State Review, Barzakh (which includes audio of Andy and I reading the work), Seneca Review, Comma, MAKE Literary Magazine, Heavy Feather Review, Court Green, Sierra Nevada Review, and Pageboy.
Video:
A series of experimental videos extending the project have been screened at international festivals including Vancouver, Novi Sad, Dorset, and Athens.
In collaboration, two become one—but the process isn't always easy. Who speaks and who is silenced? In "June 17th" two figures attempt to tell one story, in the process raising questions about how we narrate and construct our lives, who we are, and what we know.
Excerpts:
Reviews:
Amanda Ngoho Reavey. "As We Know." Galatea Resurrects #24 (May, 2015).
Gina Myers. "Blurred Lines: As We Know by Amaranth Borsuk and Andy Fitch." Fanzine (March, 2015).
Bill Carty. "Erasure, Deception and 'Correcting' the Banal." Seattle City Arts (March, 2015).
Seth Abramson. "New Book Erases the Boundary Between Poetry and Nonfiction." Huffington Post (January, 2015).
"As We Know."Publishers Weekly (December, 2014).
Bryce Bullins. "As We Know." Sierra Nevada Review (April, 2014).
Amanda Ngoho Reavey shares part of the lovely introduction she gave us when we performed in Milwaukee in December at her website, Space Inside Borderline.

Andy and Amaranth at The Evergreen State College Artist Lecture Series, January 21, 2015.
Andy and Amaranth at F R E Q U E N C Y, 186 Carpenter, Providence, RI, April, 2015
Video by Amish Trivedi