MIT Press (May, 2018)
Project Website: t-h-e-b-o-o-k.com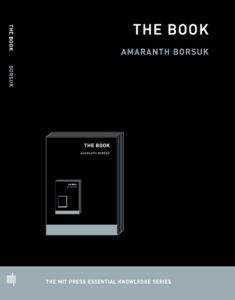 The book as object, content, idea, and interface.
What is the book in a digital age? Is it a physical object containing pages encased in covers? Is it a portable device that gives us access to entire libraries? The codex, the book as bound paper sheets, emerged around 150 CE. It was preceded by clay tablets and papyrus scrolls. Are those books? In this volume in the MIT Press Essential Knowledge series, Amaranth Borsuk considers the history of the book, the future of the book, and the idea of the book. Tracing the interrelationship of form and content in the book's development, she bridges book history, book arts, and electronic literature to expand our definition of an object we thought we knew intimately.
Contrary to the many reports of its death (which has been blamed at various times on newspapers, television, and e-readers), the book is alive. Despite nostalgic paeans to the codex and its printed pages, Borsuk reminds us, the term "book" commonly refers to both medium and content. And the medium has proved to be malleable. Rather than pinning our notion of the book to a single form, Borsuk argues, we should remember its long history of transformation. Considering the book as object, content, idea, and interface, she shows that the physical form of the book has always been the site of experimentation and play. Rather than creating a false dichotomy between print and digital media, we should appreciate their continuities.
Translation:
El Libro Expandido: Variaciones, materialidad y experimentos. Trans. Lucila Cordone. Buenos Aires: Ediciones Ampersand, 2020.
Interviews:
Reviews:
Marc Kosciewjew. "Amaranth Borsuk: The Book." Publishing Research Quarterly (January 2020).
Ana Sabino. "O livro enquanto objeto, conteúdo, ideia e interface." MATLIT: Materialidades da Literatura 7.1 (2019) pp. 249-252.
Eric C. Loy. "The Book by Amaranth Borsuk." Textual Cultures: Texts, Contexts, Interpretation 12:1 (Spring 2019) pp. 186-189.
Megan N. Liberty. "How Our Relationship to Books Has Changed Throughout History." Hyperallergic. May 21, 2019.
Gill Partington. "Box of Tricks: The Shifting Identity of the Book." Times Literary Supplement. February 15, 2019.
Kathi Inman-Berens. Electronic Literature Review. December, 2018.
Cinthya Garcia-Leyva."Sobre el Libro Sobre el Libro." GASTV, August, 2018.
Jan Baetens. "Review of The Book by Amaranth Borsuk." Leonardo Reviews, September 2018.
Ron Slate. "On The Book by Amaranth Borsuk." On the Seawall (July 17, 2018).
Robert Bolick. "On The Book (MIT Press, 2018)." Books on Books (June 7, 2018).
Excerpt:
"The Book as Recombinant Structure." The Writing Platform, October 2018.
Supplement:
What exactly is a book? In The Book, I have tried to define it with respect to its status as object, content, idea, and interface. By nature slippery, the book has taken numerous forms over time and been the subject of extensive experimentation by artists, filmmakers, tinkerers, and bookbinders.
In April, 2018, I began contacting writers, artists, and scholars I admired to ask them What is the/a book? You'll find their answers at t-h-e-b-o-o-k.com in an attempt to draw attention to the many other formulations of what the book is and can be.