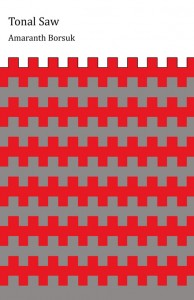 This chapbook-length poem in thirty parts uses language from a religious tract that was left on my doorstep ten years ago. Vertical slashes score the source text, sawing through the language of religious fervor to write a religion of poetry that worships language itself.
Published in an edition of 100, the chapbook formed the closing section of Handiwork and is available for free download at The Song Cave website.
Reviews:
Jose Angel Araguz said some very kind words at The Volta Blog (March 26, 2014).
Media:
Dustin Luke Nelson invited me to perform from Tonal Saw as part of InDigest's "The Last Reading on Earth, Ever: A Marathon Reading of Apocalyptic Writing taking place on December 21, 2012."