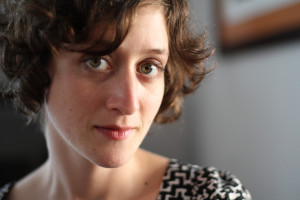 A poet and scholar, Amaranth Borsuk's work focuses on textual materiality—from the surface of the page to the surface of language.
She is the author of Handiwork (Slope Editions, 2012), selected by Paul Hoover for the 2011 Slope Editions Poetry Prize; a chapbook-length erasure poem, Tonal Saw (The Song Cave, 2010); a hybrid digital/print book of poems, Between Page and Screen (Siglio Press, 2012), created in collaboration with programmer Brad Bouse; and As We Know, an erasure collaboration with Andy Fitch (Subito Press, 2014). Abra, a book of conjoined poems written collaboratively with poet and performance artist Kate Durbin, with drawings by Zach Kleyn, is forthcoming from 1913 Editions. Together with Durbin and Ian Hatcher, Amaranth is in the process of realizing this project as an artist's book and iPad app, thanks to an NEA-funded Expanded Artists' Books Grant from the Center for Book and Paper Arts at Columbia College Chicago.
Collaboration is central to her practice. She has collaboratively translated and transverted the work of Oulipo poet Paul Braffort together with Gabriela Jauregui and has team-taught classes on chapbooks and artists' books and erasure poetry. Recent collaborative work can be found in Black Warrior Review, Caketrain,  Lana Turner: A Journal of Poetry and Opinion, New American Writing, and Action, Yes!.
Amaranth is currently an Assistant Professor in Interdisciplinary Arts and Sciences at the University of Washington, Bothell, where she also teaches in the MFA in Creative Writing and Poetics. She recently served as Mellon Postdoctoral Fellow in Comparative Media Studies and Writing and Humanistic Studies at Massachusetts Institute of Technology where she taught workshops and courses related to poetry's changing media forms from modernism to the present. She has a Ph.D. in Literature and Creative Writing from the University of Southern California, where her work focused on the use of writing technologies by modern and contemporary poets to change their relationship to the page and their construction of authorship. While at USC, she co-founded The Loudest Voice reading series together with Bryan Hurt. The cross-genre readings happen twice a semester at the Mountain Bar in Chinatown and bring together writers from USC with those from LA's other writing communities as well as area musicians. Guests have included Glen David Gold, Trinie Dalton, Henry Wolfe Gummer, and Rick Lupert, among others. Together with Hurt and Genevieve Kaplan, in 2010 she co-edited The Loudest Voice: Volume 1 (Figueroa Press), an anthology of work by readers from the first four years of the series. She also co-founded and serves as an editor of the Gold Line Press chapbook series with Kaplan, which publishes chapbooks of fiction and poetry in alternating years through an annual contest.
Her essays and book reviews have appeared in Writing Technologies, Journal for Cultural and Religious Theory, Slope, and Lana Turner: A Journal of Poetry and Opinion. Poems have recently appeared in Colorado Review, Columbia Poetry Review, FIELD, Eleven Eleven, and Denver Quarterly, among other journals.
In addition to writing and studying poetry, Amaranth is a letterpress printer and book artist whose fascination with printed matter informs her work on digital media. She worked for several years as a lab technician in the Lab Press at Otis College of Art and Design in Los Angeles and currently makes small book projects at her desk in Seattle, Washington. Click here for a complete CV.

aborsuk / uw / edu